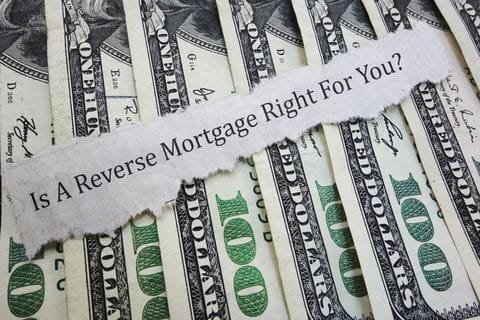 What is a Reverse Mortgage?
A reverse mortgage is a type of loan that allows homeowners who are 62 years of age or older to borrow against the equity in their home. The loan does not need to be repaid until the borrower sells the home, moves out permanently, or passes away.
With a reverse mortgage, the lender makes payments to the borrower based on the equity in the home. These payments can be made in the form of a lump sum, a line of credit, or a series of monthly payments. The borrower does not have to make any monthly payments on the loan as long as they continue to live in the home and meet the other terms of the loan.
Reverse mortgages can be an option for seniors who need additional income or want to access the equity in their home without selling it. However, they can also be expensive and risky, and it is important to carefully consider all the pros and cons before deciding whether a reverse mortgage is right for you. It is also a good idea to seek advice from a financial professional before taking out a reverse mortgage.
Reverse Mortgage Qualifications
To qualify for a reverse mortgage, you must:
Be at least 62 years old.

Own your home outright, or have a low mortgage balance that can be paid off at closing with proceeds from the reverse mortgage.

Occupy the property as your primary residence.

Attend a counseling session with a Department of Housing and Urban Development (HUD)-approved reverse mortgage counselor.
You will also need to have the financial resources to pay ongoing property charges, such as taxes and insurance. The lender will evaluate your financial situation to ensure that you can afford these expenses.
In addition, the property must meet certain standards to be eligible for a reverse mortgage. It must be a single-family home, a 2-4 unit property with one unit occupied by the borrower, a townhouse, condominium, or manufactured home that meets certain requirements. The property must also be in good repair and meet HUD's minimum property standards.
It's important to note that reverse mortgages are complex financial products and it's essential to carefully consider whether a reverse mortgage is the right decision for you. It's a good idea to speak with a financial advisor and a HUD-approved reverse mortgage counselor before deciding to take out a reverse mortgage.
What are the Pros and Cons of Reverse Mortgage?
Here are some potential pros and cons of taking out a reverse mortgage:
Pros:
No monthly mortgage payments: With a reverse mortgage, you don't have to make monthly mortgage payments as you would with a traditional mortgage. This can be a big advantage for homeowners on a fixed income who may struggle to make monthly payments.

Use the money for any purpose: You can use the money from a reverse mortgage for any purpose, such as paying off debt, making home improvements, or supplementing your income.

No credit or income requirements: There are no credit or income requirements for a reverse mortgage, so it may be an option for homeowners who don't qualify for other types of loans.
Cons:
Fees and closing costs: Reverse mortgages have upfront fees and closing costs that can be expensive. These costs may include an origination fee, a mortgage insurance premium, and other closing costs.

Interest accrues: The interest on a reverse mortgage accrues over time and is added to the balance of the loan. This means that the loan balance can grow quickly, especially if the home doesn't appreciate in value.

Non-recourse loan: A reverse mortgage is a non-recourse loan, which means that the lender cannot go after your other assets if the loan balance exceeds the value of the home. However, if you or your heirs want to keep the home after you pass away or move out, they will need to pay off the loan in full.

Loss of equity: By borrowing against the equity in your home, you are decreasing the amount of equity you have in the property. This can be a concern if you want to leave the home to your heirs or if you need to sell the home in the future.
It's important to carefully consider the pros and cons of a reverse mortgage before deciding if it is the right financial option for you. You may want to consult with a financial advisor or a reverse mortgage counselor to help you make an informed decision.
Let's connect you with our experienced reverse mortgage loan officers!
Select Your Desired State for Reverse Mortgage
The Letson Group has been rock solid with assisting buyers that I've sent their way. As a Realtor I have high expectations for my lender partners and The Letson Group is outstanding. Very professional, knowledgeable, responsive and thorough! Do not hesitate to reach out to the top mortgage broker in Colorado Springs, you'll be glad you did.
Reed was very helpful with my first home purchase, he went above and beyond. I will recommend him to everyone. Thank you Reed.
I used Reed to refinance my home and he was professional and efficient. Easy to work with and friendly. I'd recommend Reed to anyone.
Reed was amazing to work with on our home purchase. As a first time home buyer he was thorough and helped explain the different home loan programs such as VA and FHA. I really appreciated the time he took to explain everything to us.
Todd and Judit were phenomenal to work with! I had a very complex cash-out refinance of five bundled properties. Their communication was frequent and effective throughout the entire loan process. Todd was able to leverage the same lender
Reed is great to work with. He is professional, caring and very responsive in helping you out with your mortgage.
Reed and his team were kind and understanding who guided my fiancé and I through the maze of our first mortgage. He was constantly updating me along the process during the purchase and never was more than a phone call away. When I say he quite literally never didn't accept my phone call I mean it. He was easy to deal with and genuinely cared about our transition from renter to home owner. He was present at our signing and had a great attitude from start to finish. Since purchasing he has kept in contact with myself, treating me more like a friend than a client. I will not hesitate to work with Reed, again in the future and recommend him to everyone I know regarding mortgage work in the Colorado Springs area. I can't vehemently recommend him and his team enough.
DO NOT limit yourself by working with a retail mortgage lender who can only offer you limited products. Reed and his team are knowledgeable and professional. Getting approved for a mortgage is not out of reach with the knowledge, resources and experience this team brings to the table. Highly recommend this company for new loans, refinance or just getting prepared for becoming a new home owner in the future. The Letson Group has earned our lifetime business!
All i can say about my refinance experience with The Letson Group is WOW! Right from the start, the team was exceptional. I received timely communication, they answered all my questions, and made sure I was at ease with the process. I am so grateful for all the work Judit and Reed committed to my refinance. I recommend them for your initial mortgage and your refinance. I love keeping it local and this team is committed to our community and their customers!
Reed and the team at The Letson Group are the best lending team around hands down!!!! At soooo many points in the home buying process I felt overwhelmed and as if I was just drowning trying to keep up with what was going on but Reed and his team were SUPER SUPER SUPER patient with me and always had time to answer my questions, calm my fears and walk me through everything!! I cannot speak highly enough of The Letson Group team!!! I started out with a different lender and an absolutely horrible experience and Reed did everything he could reasonably do to help me!!! My husband and I HIGHLY recommend them for your mortgage needs, we are so blessed to have found them!!!!